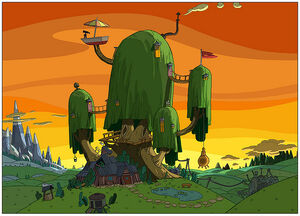 The Tree Fort is the place where Finn, Jake and BMO live. It is a giant tree located in the Grass Lands which is in the north eastern of Ooo. There are many rooms in the place such as a bedroom, bathroom, two living rooms, a Cave, an attic, a belcomy and much more. The tree it self seems to be dead, due to the fact it is hollow. It is revealed in the episode "Evicted!," that Marceline previously owned the house. In the episode "Memory of A Memory," her former boyfriend, Ash, used to live with her in the tree house. But it seems that the house was partially destroyed, since the tree overgrew. Finn and Jake have had numerous adventures in this house before, it has also been on top of a Slug before, making it look like a snail. In the episode "Memory of A Memory," a flashback was shown of Marceline and Ash living there together. In "Guardians of Sunshine," it was partially destroyed by Honey Bunny, Sleepy Sam, and Bouncy Bee. The Tree Fort was also partially destroyed in "Burning Low," when Jake smashed through the kitchen wall to prevent Finn from kissing Flame Princess. It was also partially destroyed in "Slow Love," by Snorlock the Slug. The Tree Fort was also partially destroyed by Schorcher in Hitman. The fort has had a long history.
Notable Inhabitats
Lieutenant Whiskers(BMO Noire)
Shoko aka Ghost Lady(The Vault. Remains of dead body)
Trivia
A Science Cat and a Shark always appear at 4:00pm everyday according to Finn.
In most episodes, smoke is coming out of the chimney, yet the only episodes that consists of a fireplace being lit up is "Holly Jolly Secrets Part 1" and "Holly Jolly Secrets Part 2."
The Tree Fort was once a sapling until "Shoko" died in it which acted as fertilizer, thus growing as the huge-sized Tree Fort in the present.
Gallery
See more at Tree Fort/Gallery
Community content is available under
CC-BY-SA
unless otherwise noted.