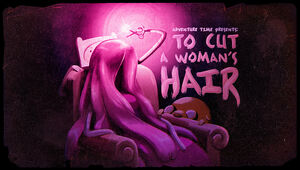 To Cut A Woman's Hair
is the 10th episode in Season 2 of
Adventure Time
. It first aired on January 10th, 2011.
Synopsis
Finn must find some Princess Hair to save Jake from the Tree Witch's bottomless bottom.
Plot
Finn and Jake are seen feeding Baby Birds for a Mother Bird, while Finn is feeding the Baby Birds, Jake tells him that he [Finn] was thinking about kissing Princess Bubblegum, Finn tells Jake that he "Wouldn't do that", Jake then tells Finn "Yes you would, you just don't know how to talk to Ladies". Finn and Jake then Follow upon a Tree Witch, who is in need of hair, they discuss if they should help her or not, Jake tries to convince her that they couldn't help her, until things gets awqward after she asks Jake to be her BF (Boyfriend), Finn then tells the Witch they can't help unless someone is in Danger, The Witch then Sits on Jake, Sucking him into her "Bottomless Bottom", The Witch then tells Finn she'll only release Jake if He gets her Princess Hair, Finn agrees and leaves to find some Princess Hair.
Trivia
Gallery
Community content is available under
CC-BY-SA
unless otherwise noted.