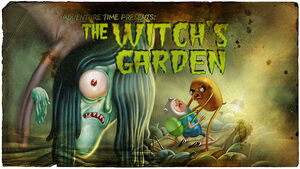 The Witch's Garden is the 14th episode of Adventure Time. It first aired on June 7th, 2010.
Synopsis
After Jake loses his powers, and Finn is captured, and Jake must apologize to the Witch that took his powers to get them back.
Plot
The episode began with Finn and Jake following a frog that is holding a crown. The frog leads them to an odd-looking garden. When the go inside, they find out that the garden has plants with food on them. Finn and Jake saw donuts growing from bushes and trees. The Witch then appeared from behind some doughnut bushes. But out of randomness, she accuses Jake of eating one of her donuts. She was wrong at first, but then proved it right while Jake was eating a doughnut at that very moment. Jake then adds insult to injury when he finishes the doughnut after noticing that he was eating it.
Community content is available under
CC-BY-SA
unless otherwise noted.