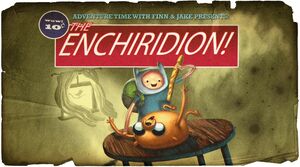 The Enchiridion! is the 5th episode of Adventure Time. It first aired on April 19th, 2010.
Synopsis
Finn and Jake are given a quest by Princess Bubblegum to journey to Mount Cragdor and find the book called The Enchiridion.
Plot
The episode starts with Finn and jake joining the party at the candy kingdom. When Princess bubblegum falls of her tower, finn catches her and PB says finn is a hero. Princess takes Finn to a secret spot and she tells Finn about a book called The Enchiridion (book).
Finn and Jake then go to a place where the book can be retrieved and they pass the 1st test by unlocking the gate going to the tower where the book is.
Finn and Jake find some gnomes and rescue them, but they destroy some old ladies but Jake puts them back to the place where they were stuck. 
Finn feels bad for being responsible for the destroying of the old ladies, but jake tells him that the place is designed to mess him up. Finn felt better after Jake confronted him.
Finn and Jake discover a giant and the giant eats Jake. Finn tells him to let jake go, but he tells finn that jake is dead. Finn uses the giant's dollar to fly and kick him in the stomach to let jake go. By doing this, finn flew himself and jake all the way to the top of the tower. Finn returns the giant's dollar. 
Finn and jake find a dark magician. The magician tells finn to sleigh a heart beast and finn sleighs it. The magician then tells finn to sleigh an ant which the magician says is neutral finn goes carzy and kicks the magician instead. Finn and jake unlock the gate and Mannish Man gives them the enchiridion. The episode ends with finn reading a page on how to kiss princesses.
Appearances
Main Characters
Minor Characters
Mannish Man
Dark Magician
Princess Bubblegum
Gumdrop Lass 1
Gumdrop Lass 2
Gnomes
Old Women
Ogre
Heart Beast
Ant
Trivia
This is the first episode that shows Finn's eyes colored, with one being green and one being blue.
Gallery
Community content is available under
CC-BY-SA
unless otherwise noted.