Skeleton Princess is one of the minor princesses. She first appeared in the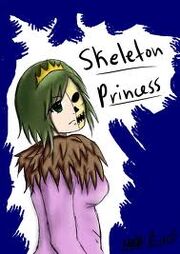 episode "What is Life?" with all the other princesses. She later appears in the episode "Loyalty to the King" with the other princess's that were coming to see the Nice King (Ice King). She was one of the princesses that got one of her body parts stolen by Ice King in the episode "Princess Monster Wife," which her leg was the body part stolen.
Appearance
She is a skeleton that has hair and wears clothes. Her hair is a dark green color that is semi-long and shaggy. Her Crown is golden and spiky, and may be used as a headband.
Gallery