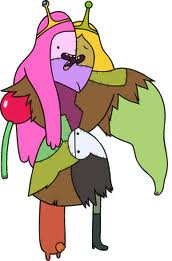 This is the character. For the episode, click here.
Princess Monster Wife is a character introduced in the episode "Princess Monster Wife." Princess Monster Wife is created by Ice King using parts he stole from the princesses of Ooo. She is worried about her appearance and origins most of the episode, but she tries to be a normal housewife for Ice King and he seems to care for her.
Trivia
Technically, she is a queen, as she married Ice King, making her a queen, even though she is actually a princess.