Marshall Lee



Name

Marshall Lee

Age

1,000+

Gender

Male

Race

Vampire

Relatives

Unknown

Enemies

Unknown

Voice Actor

Donald Glover
Marshall Lee is the gender-swapped version of Marceline. He is the Vampire King, just as Marceline is the Vampire Queen. He has an axe bass too, just like Marceline. He was first seen in the episode "Fionna and Cake," when Fionna peeks through the curtains and they both spot each other. She waves and he responds by making a rock n' roll symbol with his hand, smirking, and floating away. He then makes an appearance in the second Fionna and Cake episode, "Bad Little Boy". Marshall Lee's first song was a rap, but his general style is like Marceline's style; he sings differently depending on his mood.
Appearance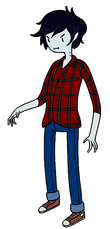 Marshall Lee has pointy ears and light grey-green skin.
His black hair is shorter than Marceline's, but he has a matching permanent bite mark. He initially wore a grey plaid shirt, but now wears a red and blue plaid shirt. He also wears dark blue jeans and old red sneakers.
Though Marceline has circle-shaped eyes, his eyes are ovals. Unlike Marceline's forked, snake-like tongue, Marshall Lee's tongue is rounded.
If he wants to go out during the day, he carries a dark umbrella, insted of Marceline's oversized sun hat.
Trivia
His guitar is similar to Marceline's Axe Bass.
His guitar has a single sided blade, which can be seen in Bad Little Boy, while Marceline has a double sided blade in her Axe Bass.
Gallery
For more pictures, click Here.
Community content is available under
CC-BY-SA
unless otherwise noted.