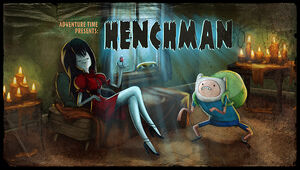 Henchman is the 22nd episode of Adventure Time. It first aired on August 23rd, 2010.
Synopsis
After becoming her henchman, Finn must obey Marceline's every order. Jake tries to save him, but all is not as it seems.
Plot
Finn and Jake are seen sliding off of a giant bone, and Marceline sees them. Finn and Jake then hear Marceline's voice and Jake starts cowering in fear since he has a fear of vampires. They then see Marceline commanding an old man to do humiliating tasks for her enjoyment. Finn then demands for Marceline to stop this, and Marceline asks Finn "What you going to do about it, Hero?" Limited on options, Finn tells her that he'll take the old man's place as her "Henchman." Marceline then frees her old henchman, which makes him happy and he hops away. Jake then asks Finn what he is doing and Finn tells Jake that it is "his word as a hero." Finn is then taken by Marceline and Jake promises Finn that he will save him.
Trivia
This episode shows that Jake is still afraid of Vampires ever since the episode "Evicted!." However, this fear is conquered at the end of the episode.
Community content is available under
CC-BY-SA
unless otherwise noted.