Gunter



Name

Gunter

Age

Unknown

Gender

Both Genders; Multiple Penguins

Race

Penguin

Relatives

Each Other

Enemies

N/A

Voice Actor

Tom Kenny
Gunter is a character from Adventure Time. Gunter is said to be multiple amount of penguins. They are Ice King's pets or servants. They made their first apperance in the episode "Prisoners of Love," due to the fact that many penguins were seen in this episode. But the main penguin is Gunter. Gunter is the Ice King's main pet/servant. In the episode "It Came from the Nightosphere," Gunter is known as the most evil creature in the land of Ooo, as stated by Hunson Abadeer. Gunter is shown to be pregnant in "The Chamber of Frozen Blades" and he gave birth to a kitten-like thing. Even though its appearance is cute and cuddly, don't leave it anywhere near bottles and glasses, as he likes to break them as in the episode "Still." In "Reign Of Gunters," Gunter turns evil, makes a bunch of copies of himself, and makes a giant Gunter, using all of the copies, and attempts to destroy Ooo. Gunter is the most annoying of all servants of ice king. It is hinted that particular penguins are called a variant of this name by the Ice King, such as:
Gunter
Goonter
Gunther
Ginter
Goonti
Videos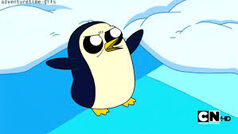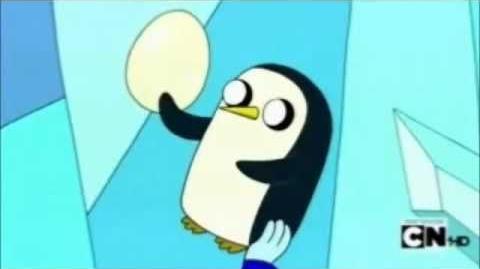 Gallery
See more at Gunter/Gallery.
Community content is available under
CC-BY-SA
unless otherwise noted.