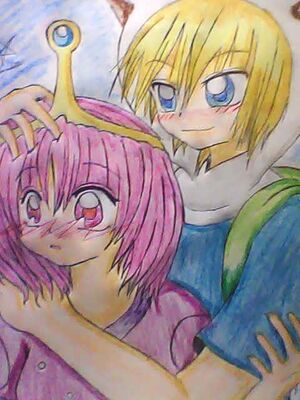 Should Finn and Princess Bubblegum be together? Write your opinon or give evidence below.
Evidence
To start, Finn has had a crush on PB since the first episode. But, PB rejected Finn when he tried to get close to her which she recalls as weird in the episode, "Incendium." Afterwards, Finn found a new love interest: Flame Princess. However, when she discovered he was dating Flame princess in the episode "Burning Low" she disapproved because flame princess is physically unstable, while the problem has been fixed it is still unknown if she is jealous or not. It is also unknown if Finn has lost his feelings for PB as well. They have a very strong relationship. On one occasion, PB does kiss Finn as seen in "The Real You."
GUYS STOP WITH THE OPINIONS THE PAGE IS FOR FACTS NOT OPINIONS!
Gallery
See more at: Finn & Princess Bubblegum/Gallery