3
Finn



Name

Finn (Pen in the original short)

Age

17 (as of finale)

Gender

Male

Race

Human

Relatives

Joshua (stepfather), Margaret (stepmother), Jake (stepbrother), Jermaine (stepbrother)

Enemies

Voice Actor

Jeremy Shada (Zack Shada in the original short)

Relationship:

Flame Princess (girlfriend), later broke up in Earth and Water
Finn (Full title: Finn The Human Boy) is a human boy and one of the main characters on Adventure Time. He loves to adventure with his adoptive brother and his best friend, Jake. They like to hang out with their other friends when they have free time. It is stated that Finn is the last human on the planet and he gets "soul searchy" if he thinks about it too much. In the episode "Ocean of Fear," he is shown to have a phobia of the ocean and in the episode "Another Way," he is shown to have a fear of clowns. Though, in the episode "Marceline's Closet," it is shown that both Finn and Jake dislike spiders as well. Finn can do radical beat-boxing beats, sing really well, play a tamborine, and play a flute (though playing the flute has never been shown). Finn is voiced by Jeremy Shada. He has blonde hair (which is growing slowly) which was shown in the episode "To Cut A Woman's Hair." In the episode "The Silent King," he was the temporary king of the goblins. As of the episode "Burning Low," Flame Princess is his girlfriend. He met Flame Princess at the end of "Incendium," and at the end of "Hot To The Touch," both Finn and Flame Princess had a 'thing" for each other.
Finn is now an uncle to the Rainbow Pupsters. On the episode Finn the Human, it was revealed that his last names is 'Mertens'
Abilities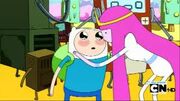 Strengths
Weaknesses
Fear - Finn has been shown to be afraid of many things, ranging from The Lich to The Ocean.
Mortality - Finn is an average human, so he doesn't have any special powers.
Quotes
"That's Math" - Various Episodes
"I'll slay anything evil, that's my deal." - Code of Honor
"Algebraic!" - "Slumber Party Panic"
"JJ flip, what the zip?!" - "Her Parents"
"Balzacs!" - "Beautopia"
"Rhombus!" - Various Episodes
"All aboard the knuckle train to fist planet!" - "Dungeon"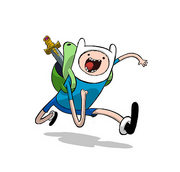 "Spamow!" - "Susan Strong"
"Oh what!? He built his house in the sun!? This guy's insane!!" - "The New Frontier"
"I'm gonna go man-handle those guys's banandals!" - "Conquest of Cuteness"
"Im'a beat you with your own thing!" - "Morituri Te Salutamus"
"Fudge man! This place is yogaballs huge!" - "The Limit"
"Come over here and say that to my fist!" - "Blood Under the Skin"
"I'll hug your mom!" - "Hug Wolf"
"You're ugly, inside and out. So ugly, I want to throw up." - "To Cut A Woman's Hair"
"The Business Men are the problem you lazy plughole!" - "Business Time"
"Imagination is for Turbo-Nerds who can't handle how kick-butt reality is. - "Rainy Day Daydream"
NO I'M NOT! I HAVE A SWEATER ON! " Mortal Folly"
"It is man, but I still totally wanna play!" - "Card Wars"
"Jake! Something crazy messed up is going on!" - "Jake The Dog"
"How about you pick on someone your own size, like my fist! *Punches* Or my foot! *Kicks*" - "Ricardio the Heart Guy"
Trivia
Finn is still the king of the goblins. 
Finn has a gender swapped character, which is Fionna.
Finn can stand extreme pain as shown in "No One Can Hear You," when the Stag breaks his legs in two different segments, and he just says "Whatever."
Finn sometimes uses math related words, like "Mathematical" and Algebraic".
Finn has a fear of the ocean, known as thalassophobia.
Finn has once turned evil. In "Daddy's Little Monster," he put on the Nightosphere Amulet to save Marceline from it.
Finn's hat was destroyed in "You Made Me!"
As found out in "Lady & Peebles," Finn might be an uncle to 5 Corndogs (Dog-Rainicorn hybrid)
Finn wields a Golden Sword, but then in "The Real You," his sword gets destroyed by a black hole he created at the Science Barbecue. He gains the Root Sword in "Mystery Train" and in "Dad's Dungeon," he gets the Demon Blood Sword.
Finn occasionally writes in his left hand and sometimes in his right. This proves that Finn is ambidextrous.
Finn is bad at playing the viola, as seen in Gut Grinder (Episode).
Finn's current girlfriend is Flame Princess, but later broke up in Frost and Fire.
Finn can overcome mind control, as seen in Mortal Folly, Goliad, The Enchiridion and in other episodes.
Finn's hair can grow really fast
Gallery
See more at: Finn/Gallery
Community content is available under
CC-BY-SA
unless otherwise noted.