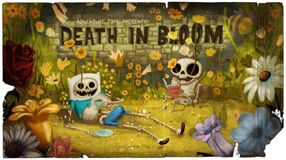 Death in Bloom is the 17th episode of Season 2 of Adventure Time. It first aired February 28, 2011.
Synopsis
Finn and Jake must retrieve the soul of the Princess Plant that Princess Bubblegum gave them, from Death in the Land of the Dead.
Plot
Finn, Jake, and Princess Bubblegum are on top of the Candy Kingdom, Drinking Tea until Princess Bubblegum notices that she's late for her Technology convection in the Veggie Village, so she leaves Finn and with her Plant, She then tells them she'll be back "on the Morrow" she then shrieks and her Bird shows up and lifts her into the Air.
Finn and Jake are seen doing different things with the Plant until fire burns it, but they quickly put the flames out, they then lay it down and realize they have killed it.
Plot Under construction, please help ATSF Wiki by expanding it, Thanks!
Gallery
Community content is available under
CC-BY-SA
unless otherwise noted.