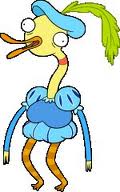 Choose Goose made his first appearance in the episode "Blood Under the Skin." Choose Goose is like a trader. He is a fun guy to ask for certain things. The way he talks is always a rhyme. Choose Goose doesn't really ask for much when Finn wants something to help himself. Finn asked for something that will make him smart for Princess Bubblegum's science presentation. In the episode "The Real You," Choose Goose was willing to give Finn a pair of glasses called "The Glasses of Nerdicon." Choose Goose wanted something in return. He said "Lately, I've been feeling drained, I only wish to be entertained." Finn then entertained him by dancing with his finger, which was enough for him to give over the glasses.
Appearance
He's a goose that wears clothes, such as a blue bera with a green feather on it. He has also been seen wearing a blue unitard with long sleeves.
Trivia
Gallery
Choose Goose/Gallery
Community content is available under
CC-BY-SA
unless otherwise noted.